E-LANDSCAPES
2015-2017 Digital photography composition and graphic processing printed on 100% cotton paper
E-Landscapes es un proyecto en progreso continuo, al que pertenecen una serie de trabajos donde la composición fotográfica es llevada al límite como medio hacia un universo gráfico. Desde la experiencia directa en el medio natural y la captura de sus imágenes, la obra nos transporta a un nuevo constructo más allá de las realidades físicas, a un paisaje subjetivo donde los espacios inalterados y vírgenes forman un todo que abarca lo interior y exterior de la condición humana.
La contemplación y disfrute de la naturaleza, de la belleza, así como la participación y goce de lo insólito y desconocido, es una fuente de placer. El placer que aporta consiste en el reconocimiento del equilibrio "perfecto" entre lo ideal y la realidad. Todo ello deviene en una peregrinación donde conseguimos regresar al "espejo del alma" a partir de la contemplación y la aprehensión o comprensión de lo que nos rodea y de uno mismo.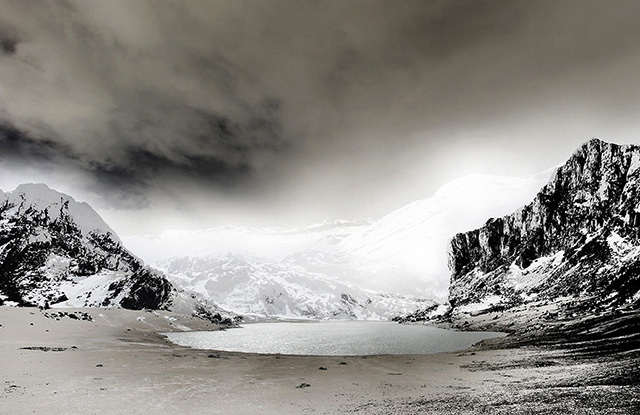 E-Landscapes is a work in progress which consists of a series of works where photo composition is taken to the limit as media towards a graphic universe. From direct experience at the natural world and the capture of its sights, the work leads us to a new constructo beyond purely physical realities. These are subjective landscapes where untouched and unspoiled natural sites conform a whole that encompasses internal and external areas of the human condition.
Contemplation and enjoying nature and beauty, just like the engagement and enjoyment of the unusual and the unknown, is a source of pleasure. Pleasure received consists of the acknowledgement of the perfect equilibrium between the real and the ideal. All of that becomes a peregrination where we can go back to the "mirror of the soul", through the contemplation and the understanding of our surroundings and ourself.